Crumpled Dogs Assemble: an Umbraco UK Fest recap
|
Written by Eleonore
Well, the dust has settled on a busy weekend and a very busy start to the week, so I've finally had the time to gather my thoughts about last Friday's Umbraco UK festival.
Hosted in the beautiful Barbican venue in London, and organised, as usual, with great passion and flair by The Cogworks, it was a particularly exciting event for us lot at Crumpled Dog, as it was the first Umbraco outing that the whole assembled development team was able to attend together.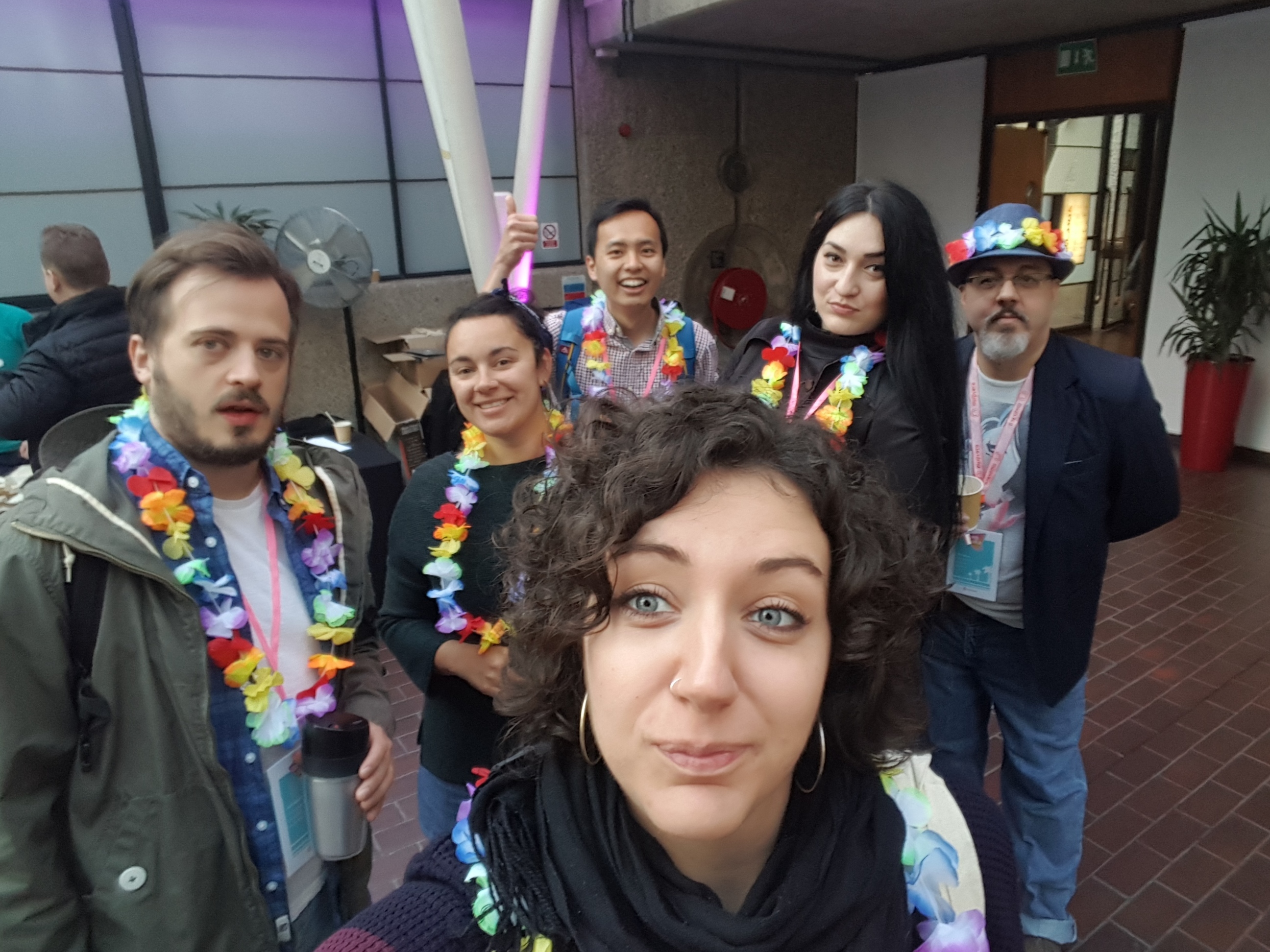 (L-R) Jack Stunell, Emma Burstow, Jeric Yuen, Iulia Ionescu, Clive Cooper, (centre) Eléonore Beahan.
After receiving our printed tote bags and Umbraco Fest t-shirts (and complimentary flower garland) everyone was gathered into the main auditorium where The Cogworks greeted this year's attendees in 80's-style get-up in front of a Club Tropicana-type backdrop which was almost sunny-looking enough to make you forget the chilly early November air outside.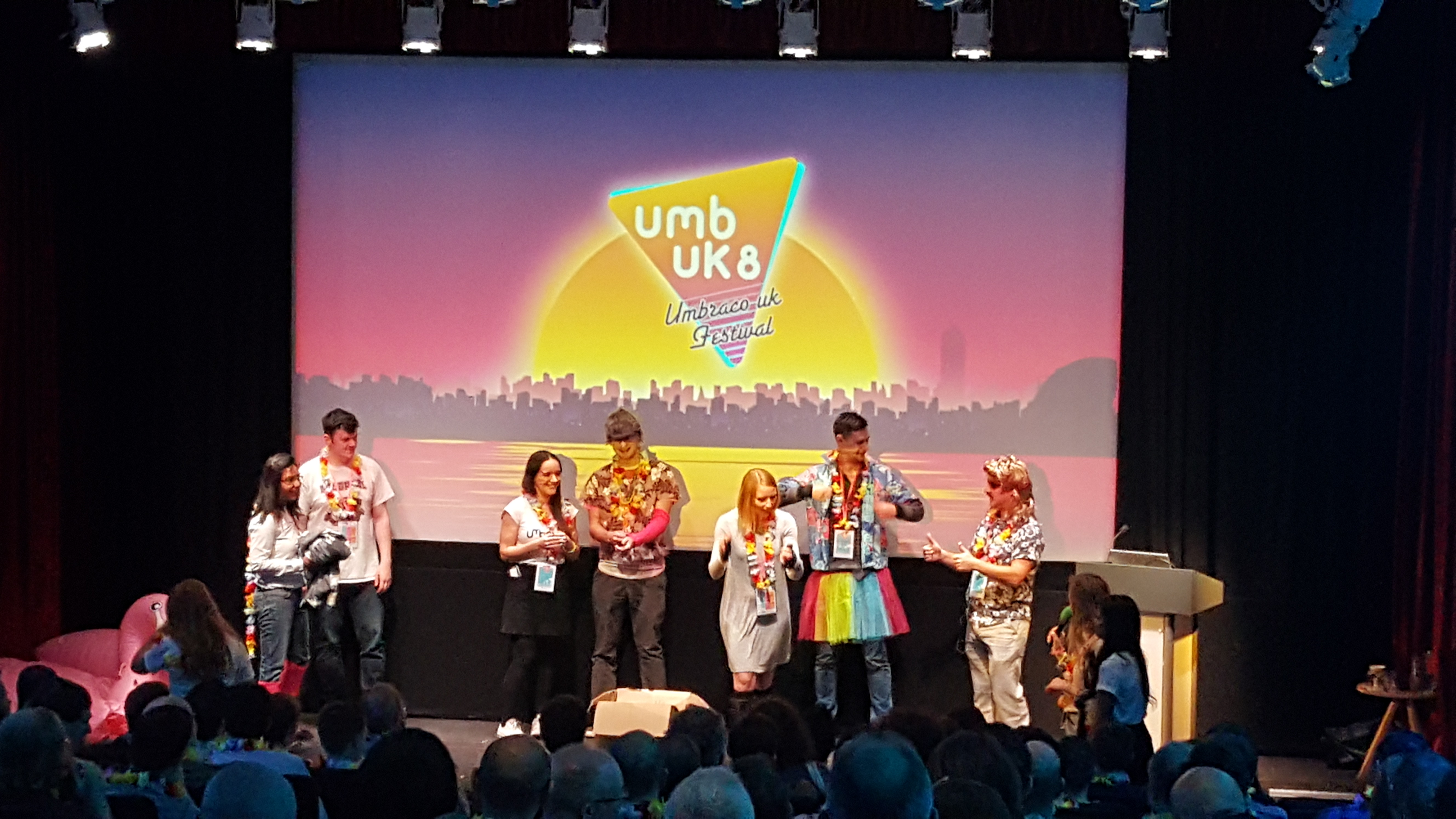 Acceptable in the 80's.
After the initial welcome, the Crumpled Dog team splintered off to a variety of talks and workshops. Some of the tech side of the group went to learn more about unit testing with Lars-Erik Aabech (which, according to our senior developer Jeric Yuen, was "challenging but fun!") while some of the others went to Stephan Gay's talk on v8 architecture.
As a project manager, I was more interested in Ryan Behrman and Richard Atherton's workshop on Lean Change Management. Due to the popularity of the other talks on at the same time (and possibly due to the significant skewing of UKFest attendees towards tech and development), this particular workshop was thinly attended – which, after having participated, I can say is frankly a real shame, because it was a very interesting and thoroughly useful session.
Several issues were raised during the workshop, in particular on the notion of trust, and how engendering a strong feeling of trust between team members can work for your company both on a personal and professional level. There was also a creatively enjoyable task based around making Lego-model representations of situations in which trust is earned or broken. My particular contribution involved a turtle involved in a tragic accident with a two-wheeled vehicle. I'll leave you to decide the deeper meaning of this one (hint: the turtle is the project…)
Tragedy strikes....
There were a variety of talks to attend for the rest of the morning – including how to build the website you need by Pete Duncanson, and finding out what's new in C# 7 and 8 with Marcin Zajkowski. Pete focused on the ins and outs of project planning and looked at some of the common pitfalls, relatable for both developers and project managers alike. Ever-enthusiastic Marcin spoke about the new features in C# 7 and 8 and how we can make the most of this as Umbraco developers.
Then it was time for lunch, whereupon dozens of hungry developers descended on the catering-provided sandwiches with the kind of zeal you'd expect from dozens of hungry developers, many of whom had been travelling bright and early that morning from fairly far afield.
As someone who's still fairly new to the Umbraco community, with only this year's Codegarden festival under my Umbracian belt, it was great to spot a handful of familiar faces in the crowd (some of which I had last seen disappearing under paper bags during the Codegarden bingo in June…) As always with these events, it's the sense of community that you appreciate the most, and I felt particularly warmed to be sharing this UKfest experience with my whole team (not forgetting our Canada-based developer, Will, who was there with us in spirit.)
There were several more talks to look forward to in the afternoon, including our own Jeavon Leopold's workshop on flexible load balancing (very educational, highly recommended!), and an open session with chief unicorn Niels Hartvig in the Barbican jungle room, surrounded by overgrown exotic plants and foliage, taking questions from the attendees, which became an interesting discussion on the various ways of monetising Umbraco packages.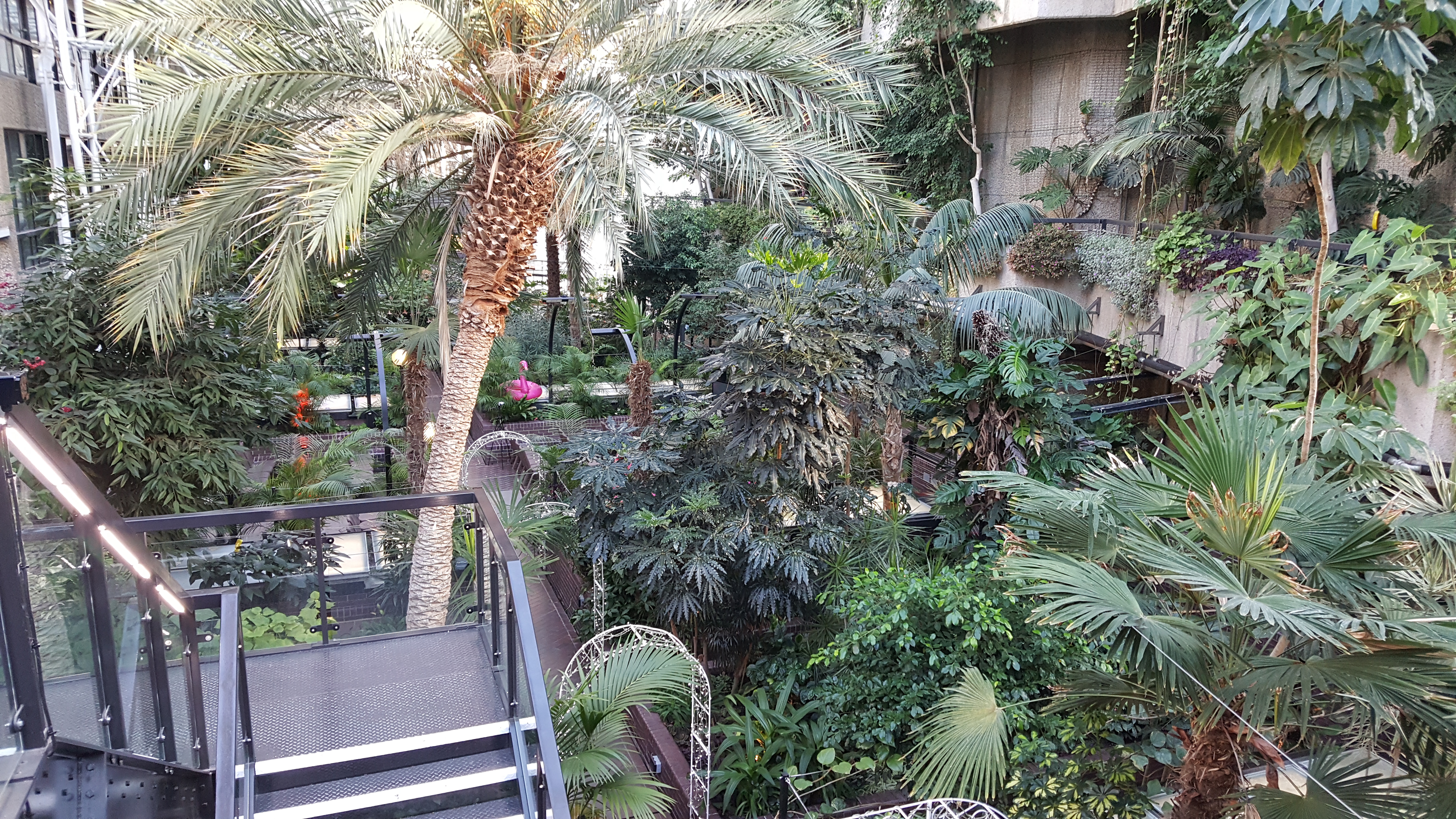 At the Barbican.
After a short break, it was time for the keynote speech, during which Niels ran through the features soon available in Umbraco v7.8. One of particular interest to me was the 'tours' feature, a handy tool that will be able to guide users through the backoffice, and also enable you to create bespoke 'reminder' tours for clients, taking them through certain processes that they might have to do repeatedly.
The day finished with a giving out of prizes to speakers and contributors, and to some of the best fancy-dressed attendees – including our own Clive Cooper, who committed fully to the 80s theme by coming dressed in a tshirt airbrushed-printed with his own original artwork from 1985, complete with a (sadly no longer functioning) walkman.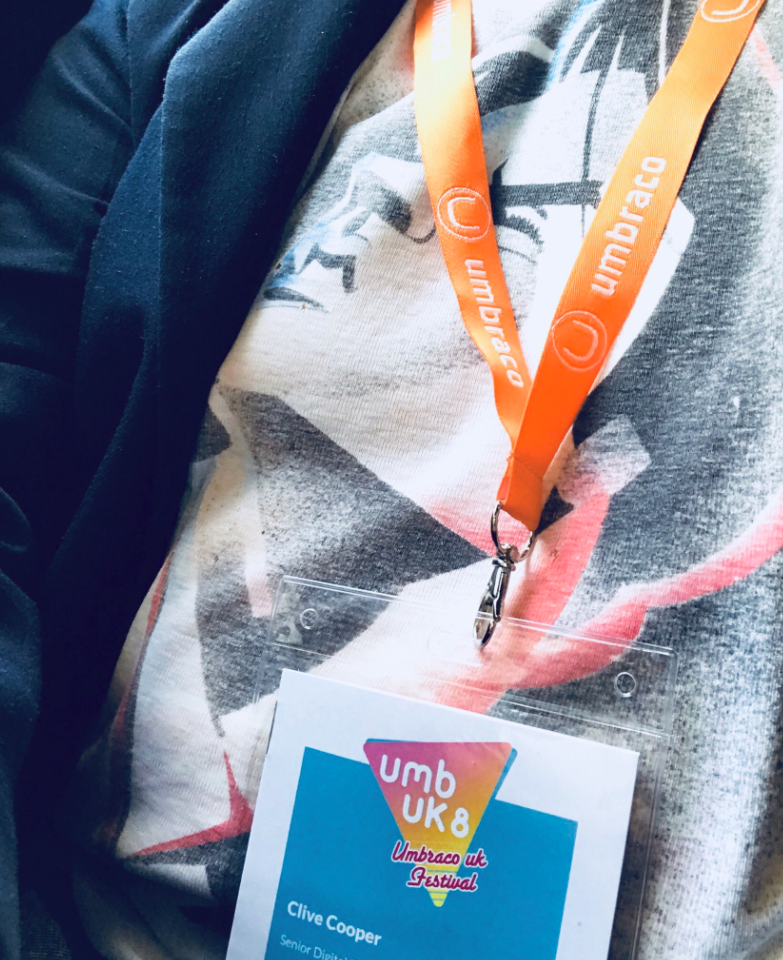 Prize-winner.
Unfortunately, I wasn't able to get involved in the after-festival festivities, as I had to rush off elsewhere, but for those who could make it, the evening continued with general merriment down at a nearby pub, and no doubt a late night for those travelling back.
Overall, it was a very successful day, made all the more enjoyable by spending it in the company of a great team that I feel incredibly lucky to work with (and that, as I stated emphatically during my morning workshop, I of course trust implicitly….)
Thanks to The Cogworks for putting on a smoothly-run and well-organised event, and to the Umbraco community for making UKfest what it is. See you next year!