Introducing Slack Health Check Notifications for Umbraco v7.7
|
Written by Crumpled Dog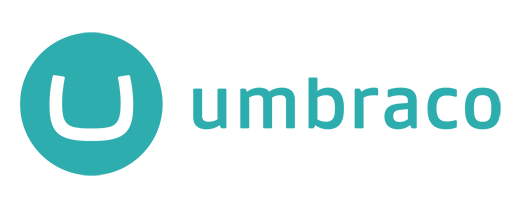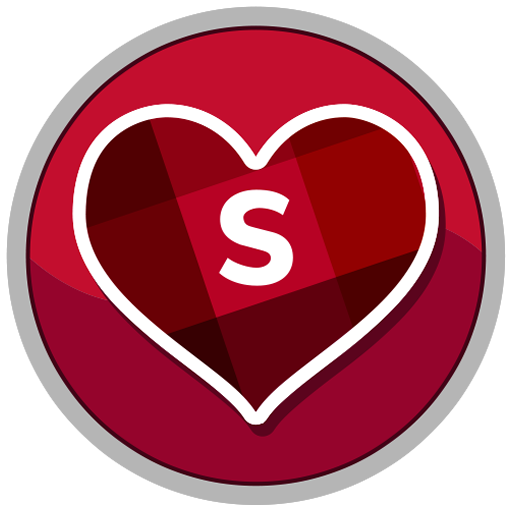 Following the release of the new and exciting release of Umbraco v7.7 (more information on this can be found here) we are pleased to be able to release our latest Umbraco package, the Slack Health Check Notification method.
What is it?
Good question, it's a Umbraco plugin that allows you to receive scheduled Umbraco Health Check notifications from a specific Umbraco installation directly into a specific Slack Channel.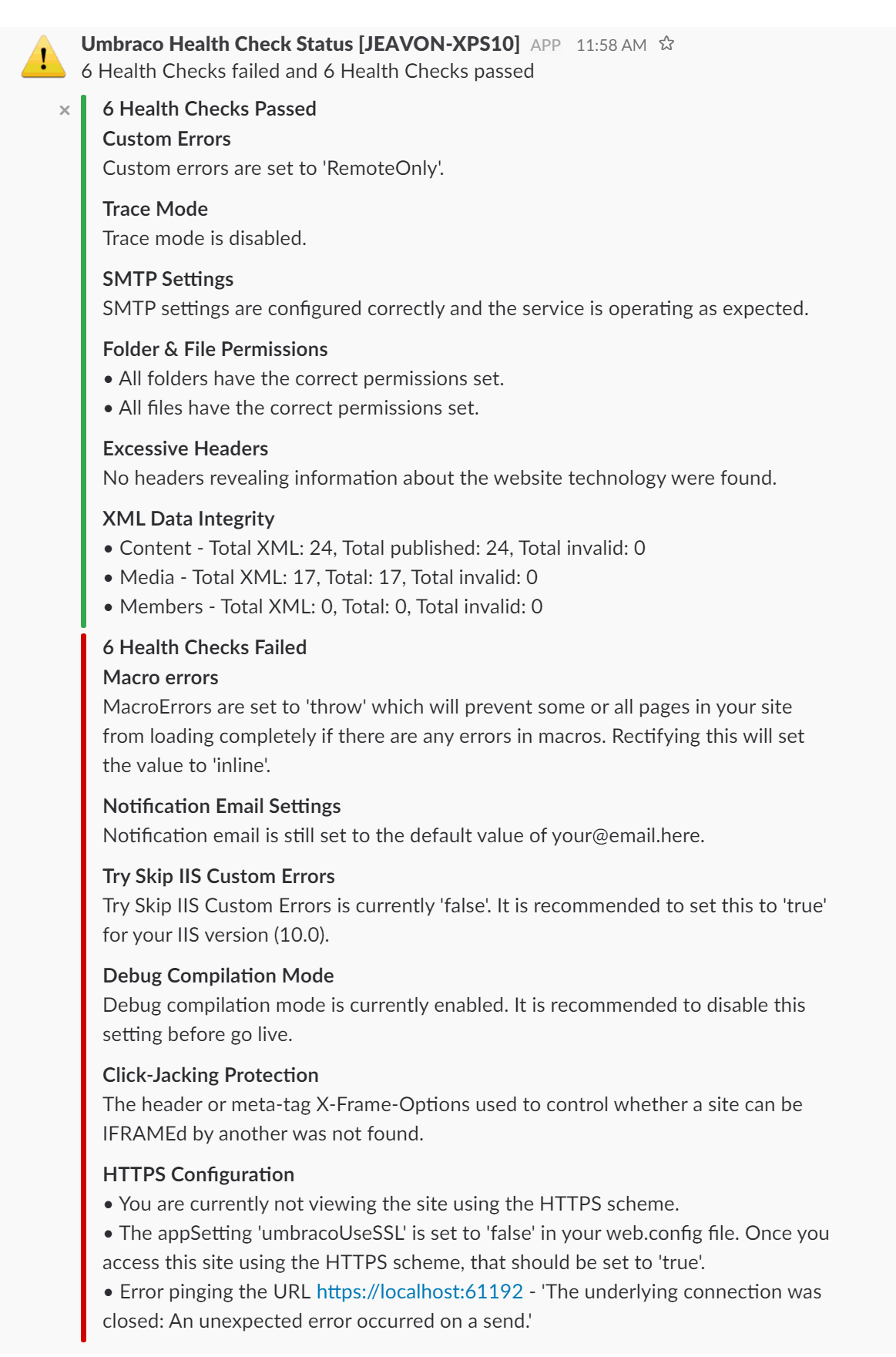 Why do I need it?
It will allow you to either check daily for any changes in the health of your Umbraco installations without having to access Umbraco and run the checks every day manually, or you can configure it to only send a notification if one or more of the checks are failing! Umbraco v7.7 includes an email notification method already so you can use this if you would rather receive notifications to your mail box.
What's a Health Check?
Within the Developer section of Umbraco there is a dashboard called "Health Checks" this dashboard allows users to run a series of checks on the health of the system as well as checking the many configuration options are set correctly for a live environment. In your live environment you want to see all green ticks! Further checks can be added by package developers or specifically created by developers for your installation.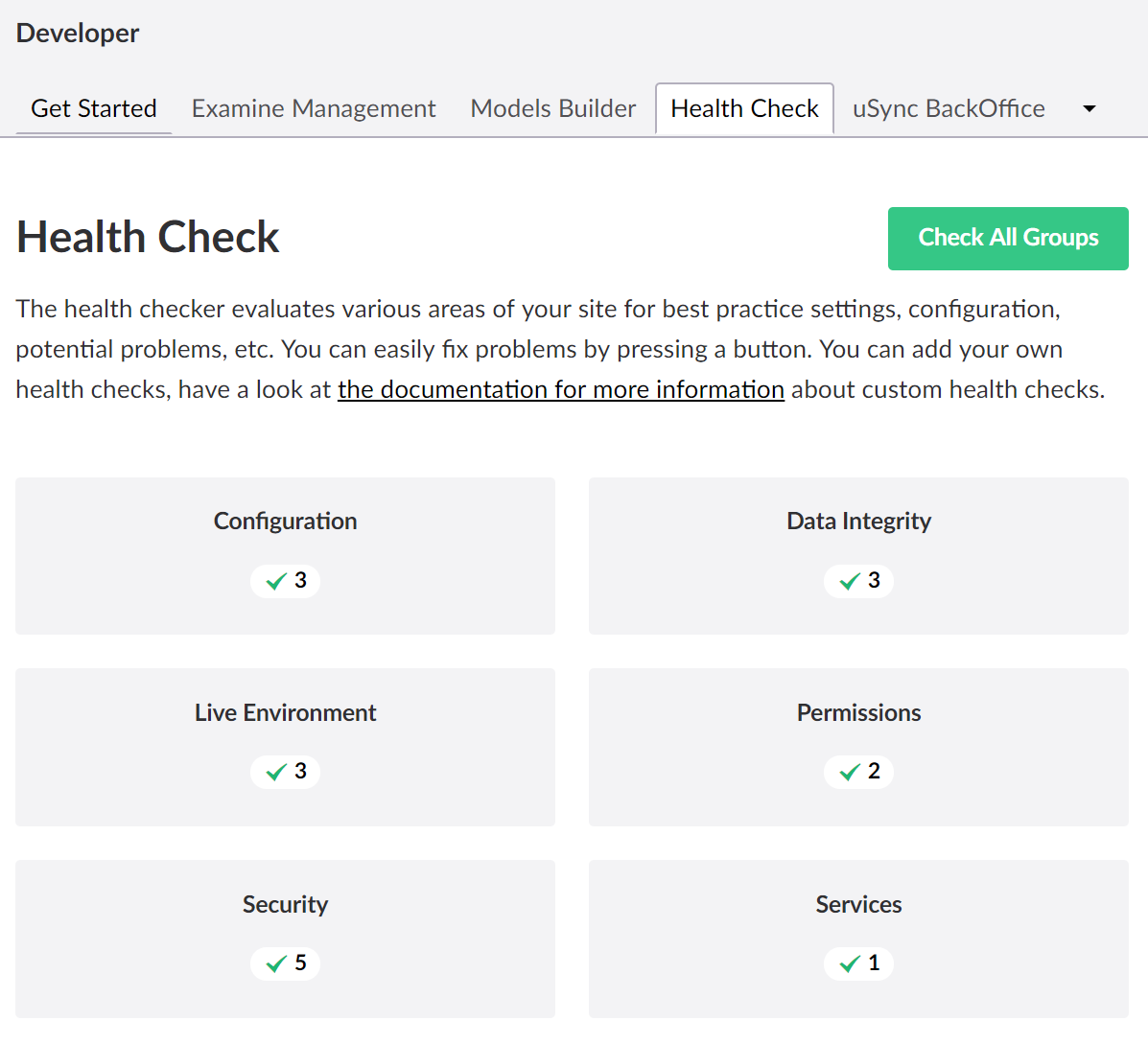 How does it work?
Umbraco v7.7 introduced scheduled health checks as a new feature, the new notification method feature is plugin-based so you can create your own methods or share them with others, this is exactly what we are doing with this package.
What's the story behind this package?
Crumpled Dog's technical director and Umbraco MVP, Jeavon Leopold collaborated with Zone's Head of ASP.NET, Andy Butland at the 2017 Umbraco Core Team Retreat to create the v7.7 scheduled health checks feature. It is the result of some fantastic collaboration between two London-based Umbraco Gold Partners, who have been able to come together to further develop the Umbraco Core project with an exciting and incredibly useful package.
Jeavon's memory of how it came to be:
At the Umbraco HQ before we headed off for the Core retreat we were brainstorming ideas and it was discussed twice that developers had experienced a scenario where their SSL certificate had expired and they had received no warning as emails from the issuing authority had gone to a billing contact and of course been ignored. This got me thinking firstly about creating a health check that checked the certificate for how long was left before expiry (Andy solved this one in a few moments and was released in v7.6.5) and then secondly about a method for notifying that the expiry was approaching, and so the idea of scheduled health checks was born at HQ (somewhat bizarrely at this exact moment Whigfield was singing Saturday Night live in the background...)
How to do I install the package?
The package is available as both a Umbraco package and NuGet package to download today.